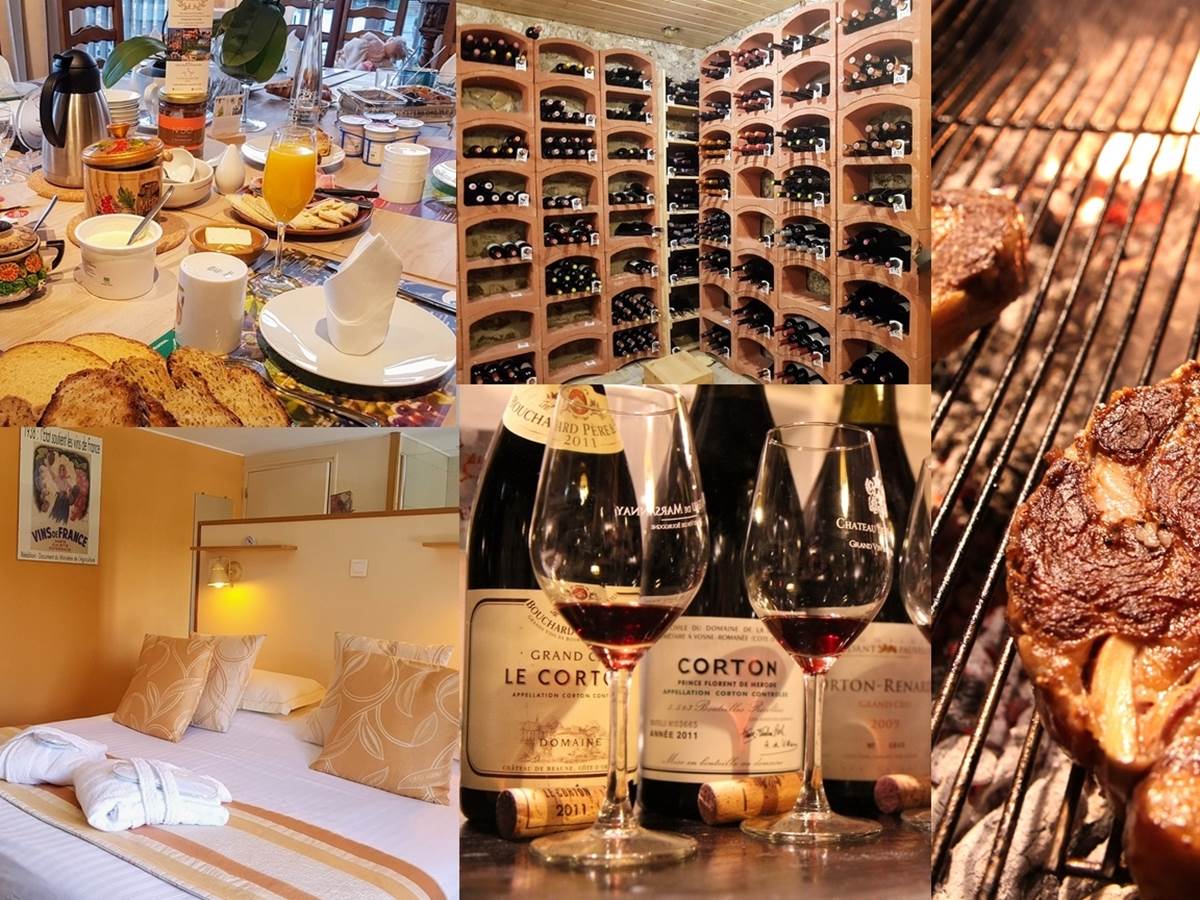 Our News
14 Mar 20

Home cooking, recipes

Cook easy, original recipes at home that will delight young and old.

The papela Pelaude for 4 people, or also call Jules' burger!
ingredients:
- 4 good minced steaks of +/- 150 gr ordered from your butcher (+/- 5% fat)
- mushrooms, a preference for porcini mushrooms, but it works with chanterelles, wild mushrooms, button mushrooms
- 150 gr of semi-salted butter
- 2 dl of fresh cream
- 4 brick sheets
- 8 toothpicks
support:
- 8 potatoes cooked in au to make a good mashed potato (salt pepper nutmeg and a drizzle of very good olive oil) and you can prepare the seasonal vegetables of your choice as an additional accompaniment .

realization:
- in a pan put half the butter, let it melt and sauté the mushrooms, when they are well sautéed, the water evaporated, add the cream and let reduce very gently. (salted and peppery)
- in another pan put the other part of the butter, let it melt and brown and cook the minced steaks, well browned / sear on both sides without letting them overcook, set aside.

take a sheet of brick and make a small basket by gathering the sheet of brick in 2 opposite places and keep the gathers made with a toothpick. you will have a small basket, a foil.
In each of the 4 papillotes, place a cooked chopped steak, cover with the cream mushroom preparation that you will share on the 4 papillotes. and bake 4 'in the oven at 200 °, the edges of the hut will become colored and become crisp.

make your mashed potato.
Dress your plates with a foil and quennelles of crushed potato.

Enjoy your meal !


20 Feb 20

NEW! Wine bar and boards with local products.

New! Have a good time.

Tuesday to Saturday from 5.30 p.m. to 9.30 p.m.
Great wines by the glass.
From boards to selected local products of high quality. (Cul Noir Limousin from Gaec Dufour, Canard Ferme de Beauregard, Pays Limousin cheeses, etc ...) changing with the seasons.

BRIEF, we are waiting for you!

05 Feb 20

Love always

What could be better as a date "the feast of lovers" to open its doors after holidays.

Nice to meet you after these holidays. 2020, we are celebrating 25 years of the house, 25 years of love with our customers!

We are expecting you from February 14 for:

A Valentine's Day menu at 40 €, offered on February 14, 15 and 16
A room, a gourmet breakfast
La Fondue Pelaude in vonlonté
The Piece of Matured Beef
NEWS to better welcome you

Hope to see you again, see you soon! Don't forget to BOOK! tel: 05 55 69 15 66

OFFER A GIFT CARD "ROMANTIC STAY, GETAWAY FOR TWO" see our gift cards

10 Oct 19

Tasting evening November 15, 2019 at 8 pm Les Amidyves.

As every year in November, a must visit at Ranch des Lacs!
Olivier B. come back with his Amidyves (AOP Ventoux) * and Jules our Chef with his long- limousin Limousin beef from our artisan butcher Hugues Buraglieres.
A unique evening , around a big table of hosts, a real moment of life !
What's authentic! true!
Only on reservation, limited places.
45 € per person, full meal / wine
95 € per person, meal / wine, night in double room (if 2 people per room) and gourmet breakfast
130 € per person, the meal / wine, the night in a single king-size room and the gourmet breakfast
Appointment on November 15, 2019 at 8pm at the Ranch des Lacs Vervialle 87120 AUGNE!

* attention alcohol abuse is dangerous for health, consume with moderation

27 Sep 19

New shortbread biscuits KURIKITO

Surprising shortbread biscuits, rich in protein.A healthy "snack" ideal for busy people and athletes.

Each biscuit contains 13% protein. Ecoresponsible good for the planet.Made at Eymoutiers87120

To discover with us! at Ranch des Lacs,

KURIKITO shortbread cookies

!

For sale by box.

10 Sep 19

September, October, November month of the hike

Hiking, cycling / mountain biking, horseback riding, with a donkey ...... on the Regional Natural Park of Millevaches in Limousin.
Another tourism is invented here, at the Ranch des Lacs in New Aquitaine, Haute-Vienne, Pays Monts and Dams.

Our

hiking accommodation

, receives you and provides comfort after the effort.

Local products to preserve a local economy, gourmet cuisine
Topoguides at your disposal, Loopi and Rando Millevaches applications
cozy and comfortable rooms, all with sanitary, central heating.
Relaxation lounge and wine cellar
Fitness room free, petanque, library, board games,
home and local bicycles
home water and meadow electric fence for horses and donkeys (provide hay / feeding)

We are open for accommodation 7 days a week,

book live, it is already a little home!

See you soon !

22 Jun 19

Outdoor pool at Ranch des Lacs

Public swimming pool.
Officially open from July 1st to August 31st.
Minor children must be accompanied by an adult.
Dog forbidden.
No smoking.
18m x6m x1,50m
Do not dive, 1.50m deep.

27 May 19

A loyalty program for you dear customers!

Simple, current, fun, free,

effective ... the DNA of

Charm & Character

.

Launch of the Charme & Caractère loyalty program!

A simple program where the rewards are not based on the money that customers spend with us, but where we reward them for what they do for us and our notoriety ...
A program that costs nothing to our hoteliers ...
A program that sets up a permanent global competition with lots of gifts to win ...
A simple and fun program from a PC or smartphone with our application ...


27 May 19

Book your stay at Ranch des Lacs and all activities to do around

New

from our website and the page

"Around me" beautiful suggestions of activities

recommended by us, our favorite addresses for

your stay at Ranch des Lacs

, we have become a real holiday

destination

, since our site organize following

your wish

your trip to Limousin.

Various sensations and varied guaranteed.

20 May 19

My Dad, this Hero! Tasting.

June 16 Father's Day

Offer a tasting of Whiskeys or Rums ..... to his father's HERO!

Tasting gift card , or stay gift card ...

20 May 19

Give a Gift Card to Your Mom

It is still time !


A gift that is fun, that we can use when we want ...

A Gift Card!

An Exceptional Mom, Exceptional Gift

Happy Mother's Day, May 26

06 Mar 19

Our menus, map, and specialties MARS

Discover

our proposals at table March 2019

and book!

Enjoy your meal !! Book on the phone 05 55 69 15 66

12 Jan 19

Our selection of wines of the moment, Cave du Ranch des Lacs

23 Dec 18

There is still time, OFFER a Gift Certificate

You want to please

your loved ones, family, friends, ....

You want your Gift to be unique and personalized.




You want to support a local economy,




Offer a Le Ranch des Lacs Gift Certificate ,

it is valid for 12 months,

it will be deducted from the overall score of the recipient (s).